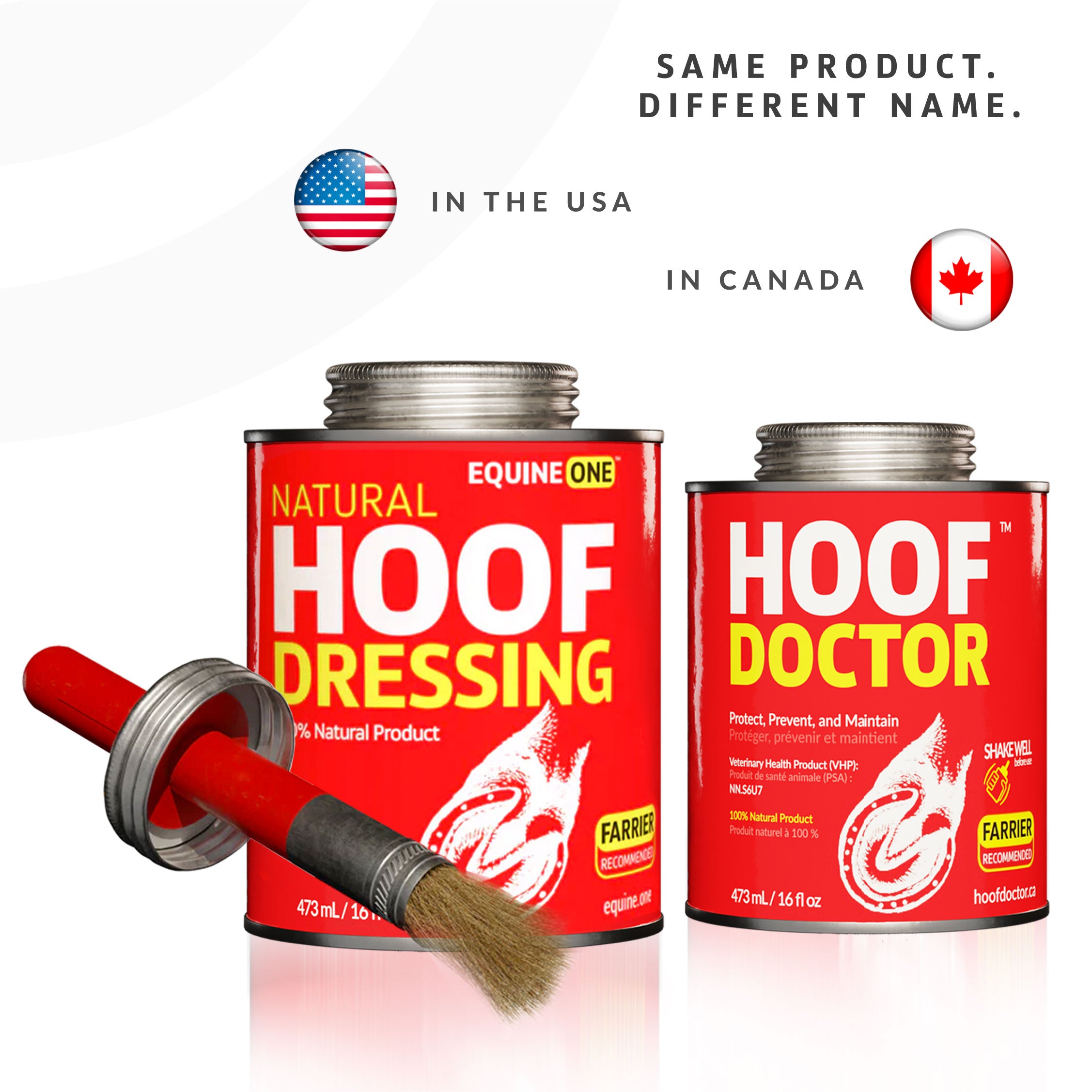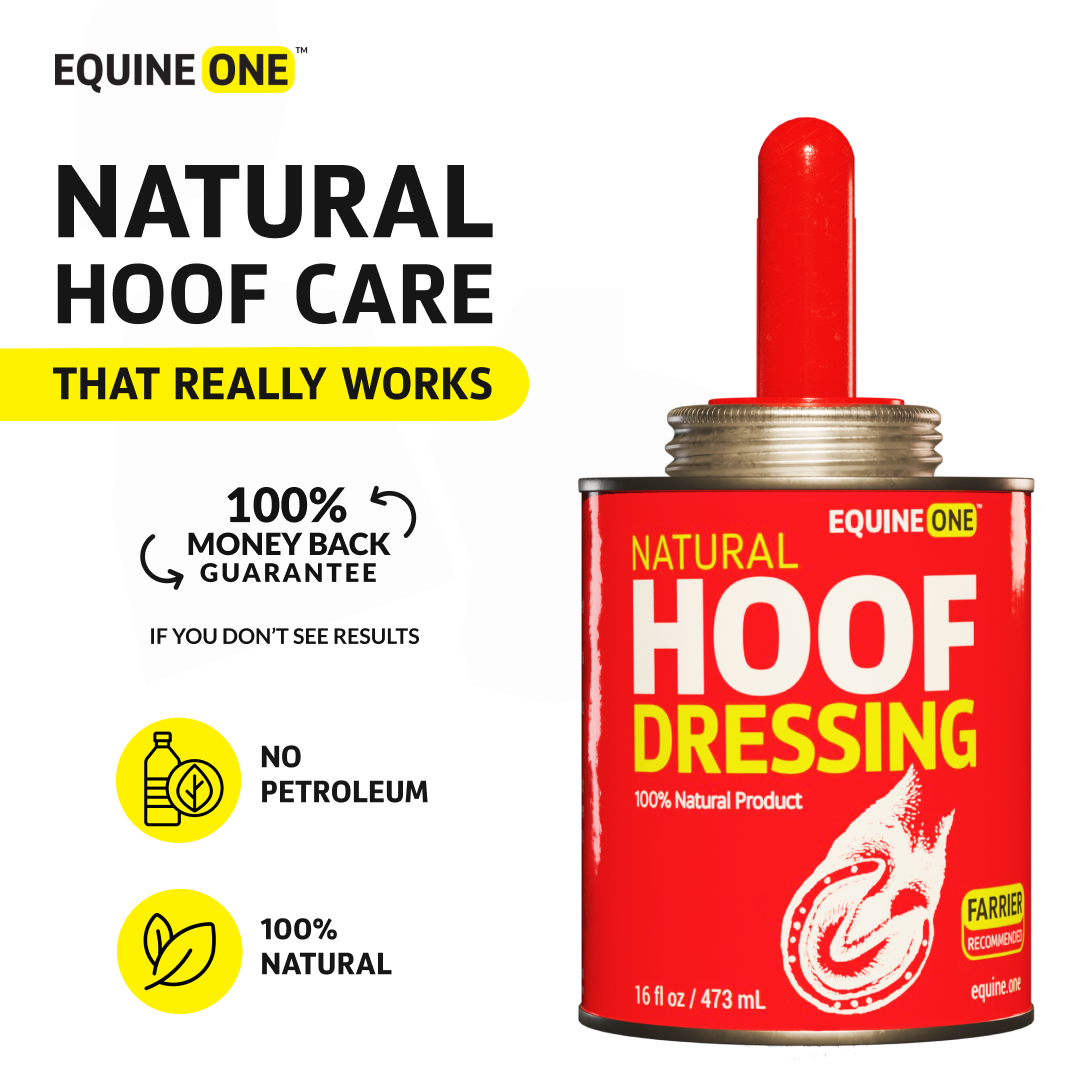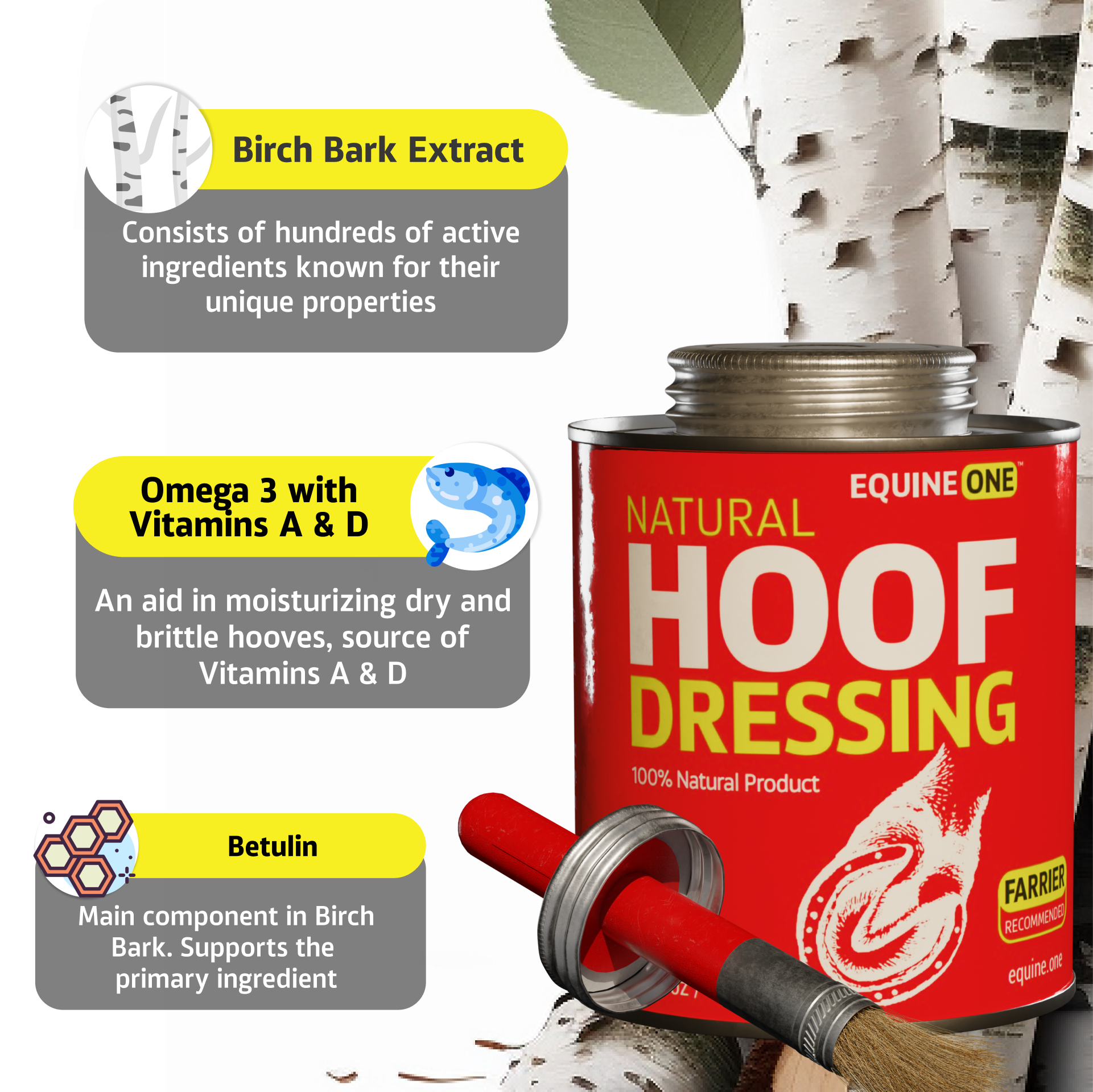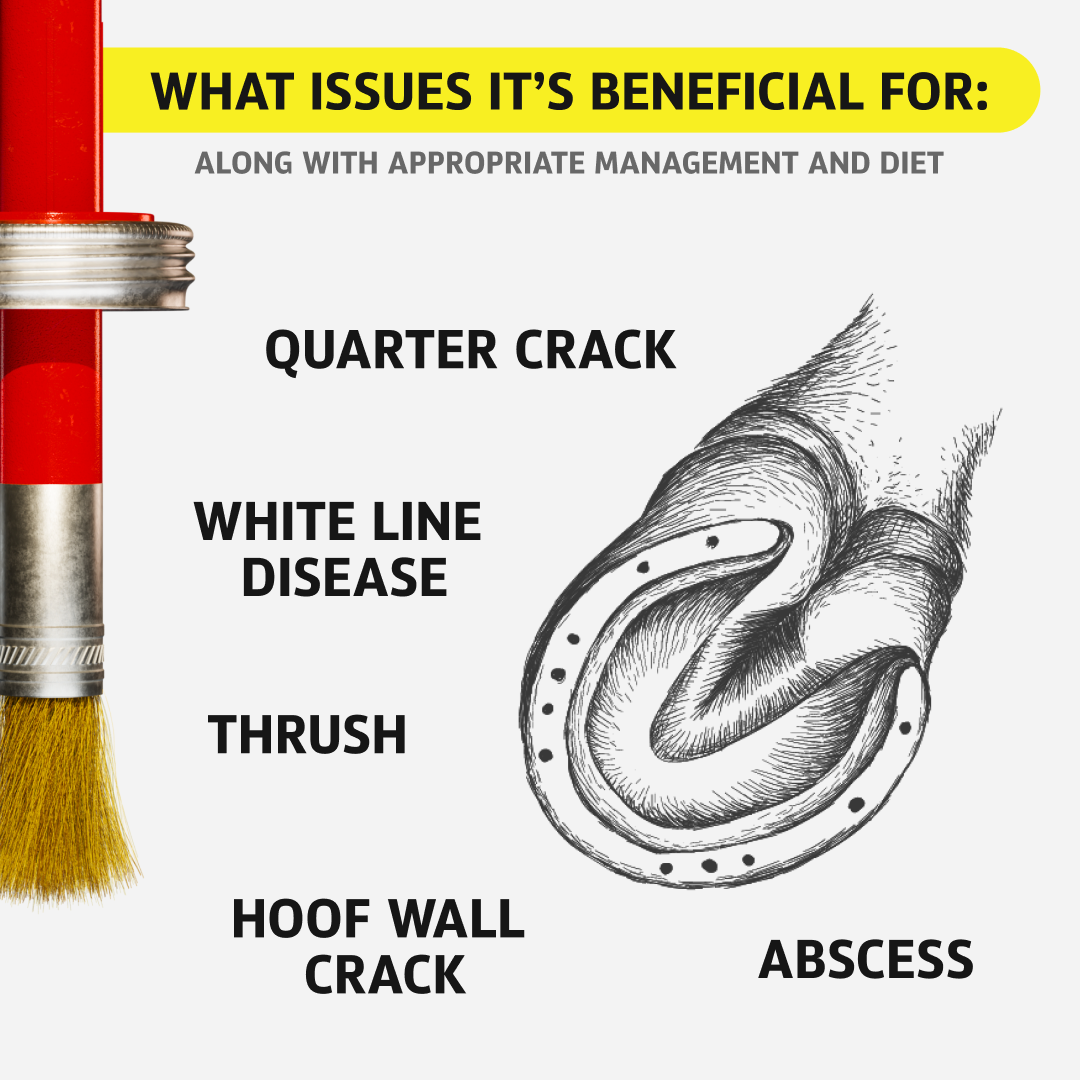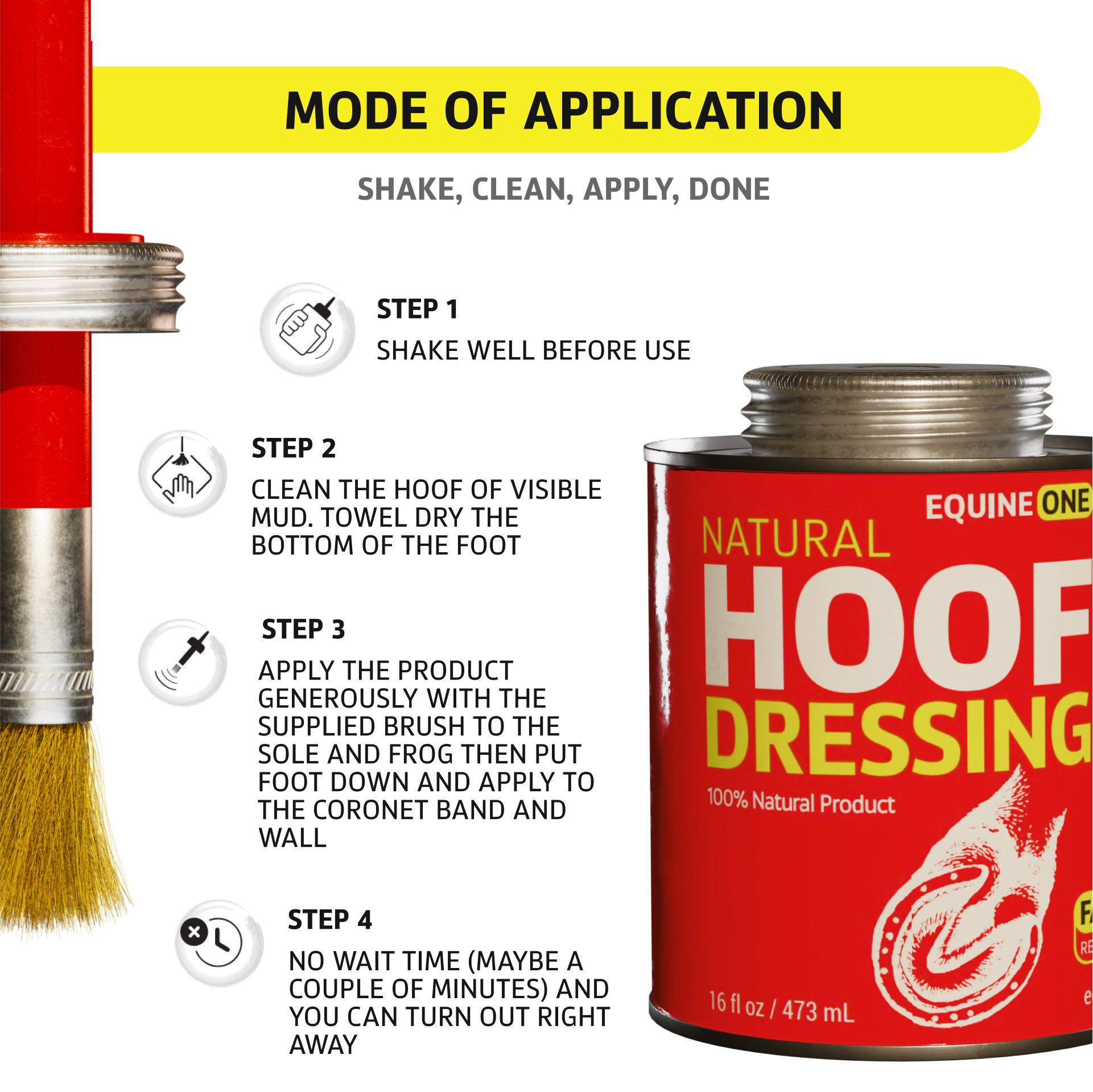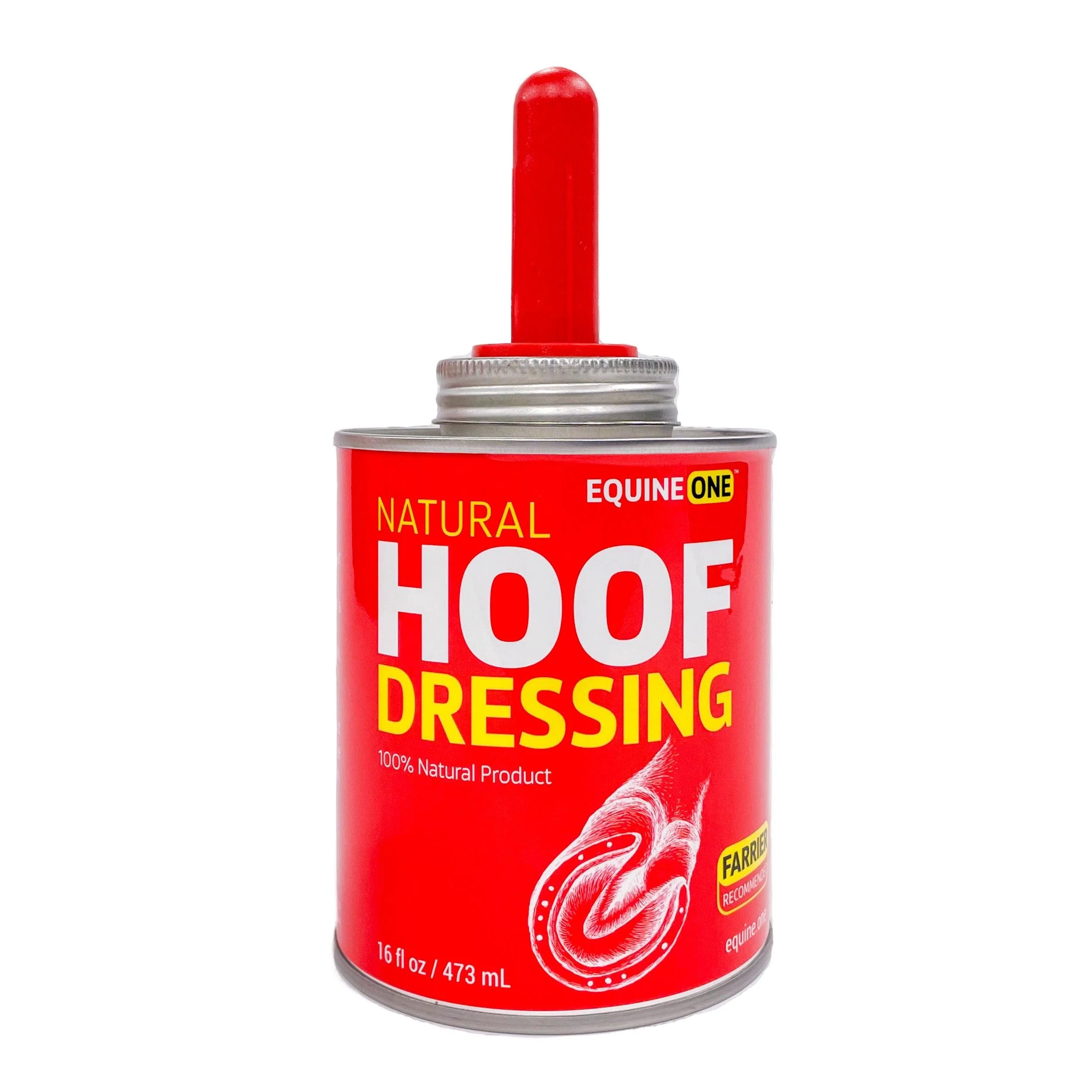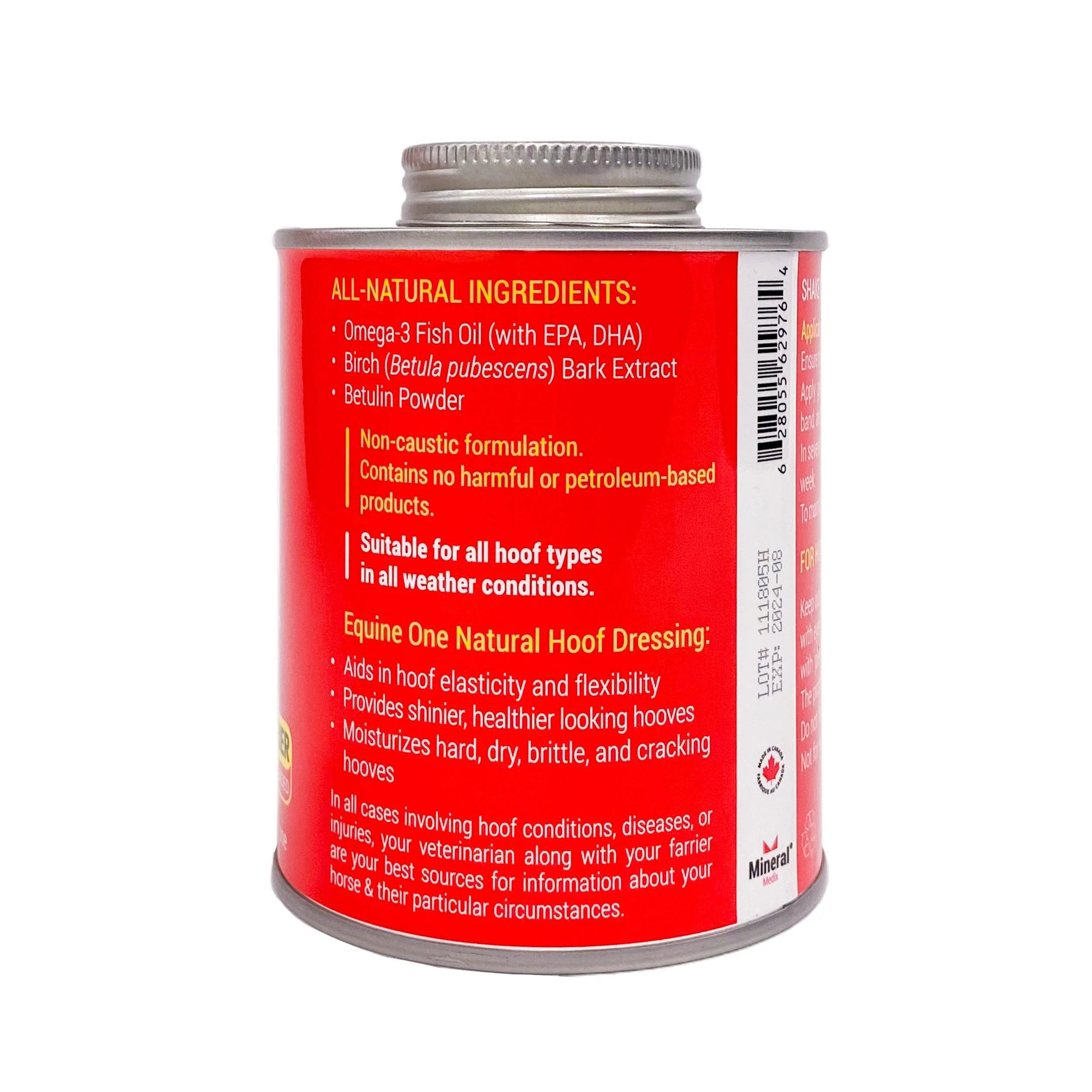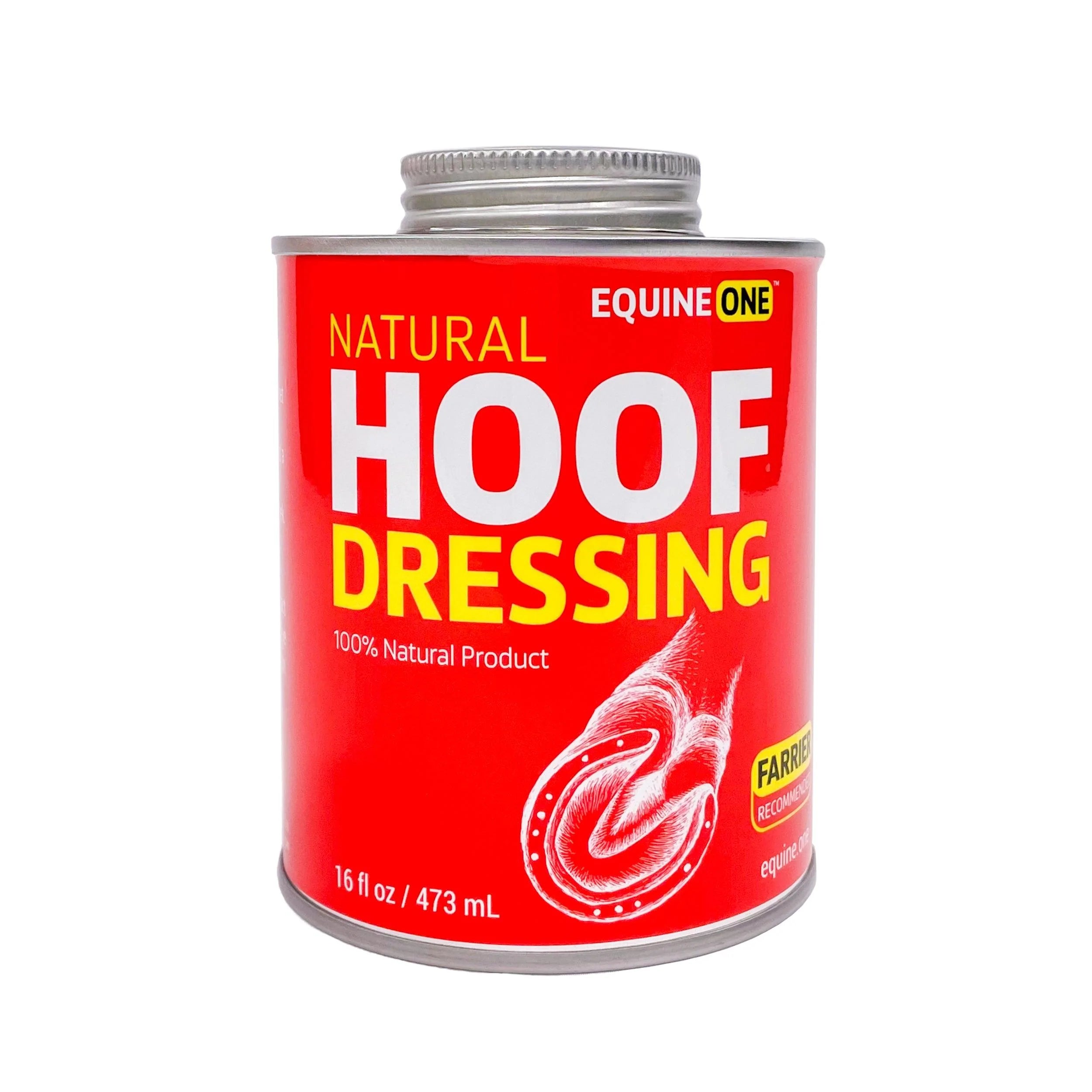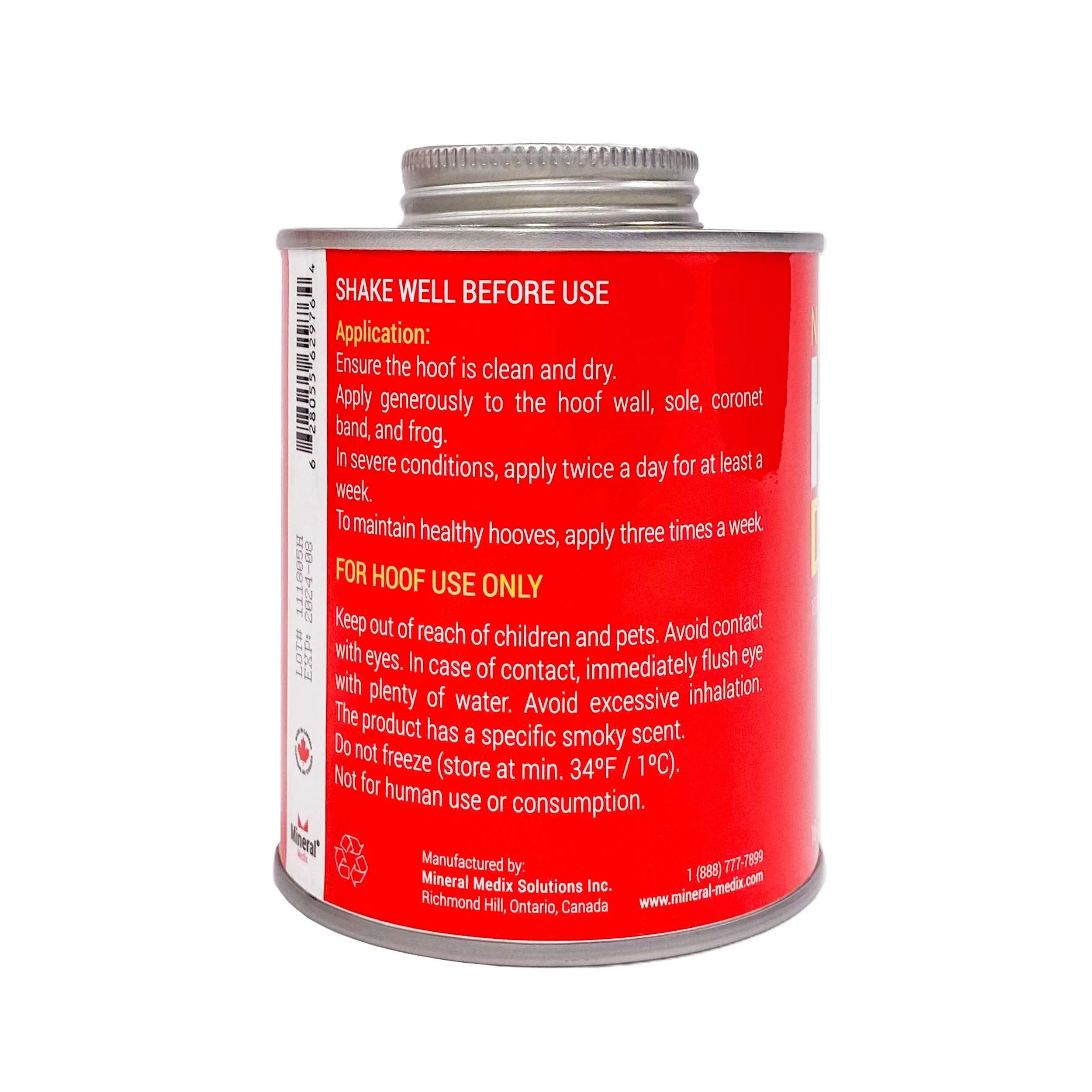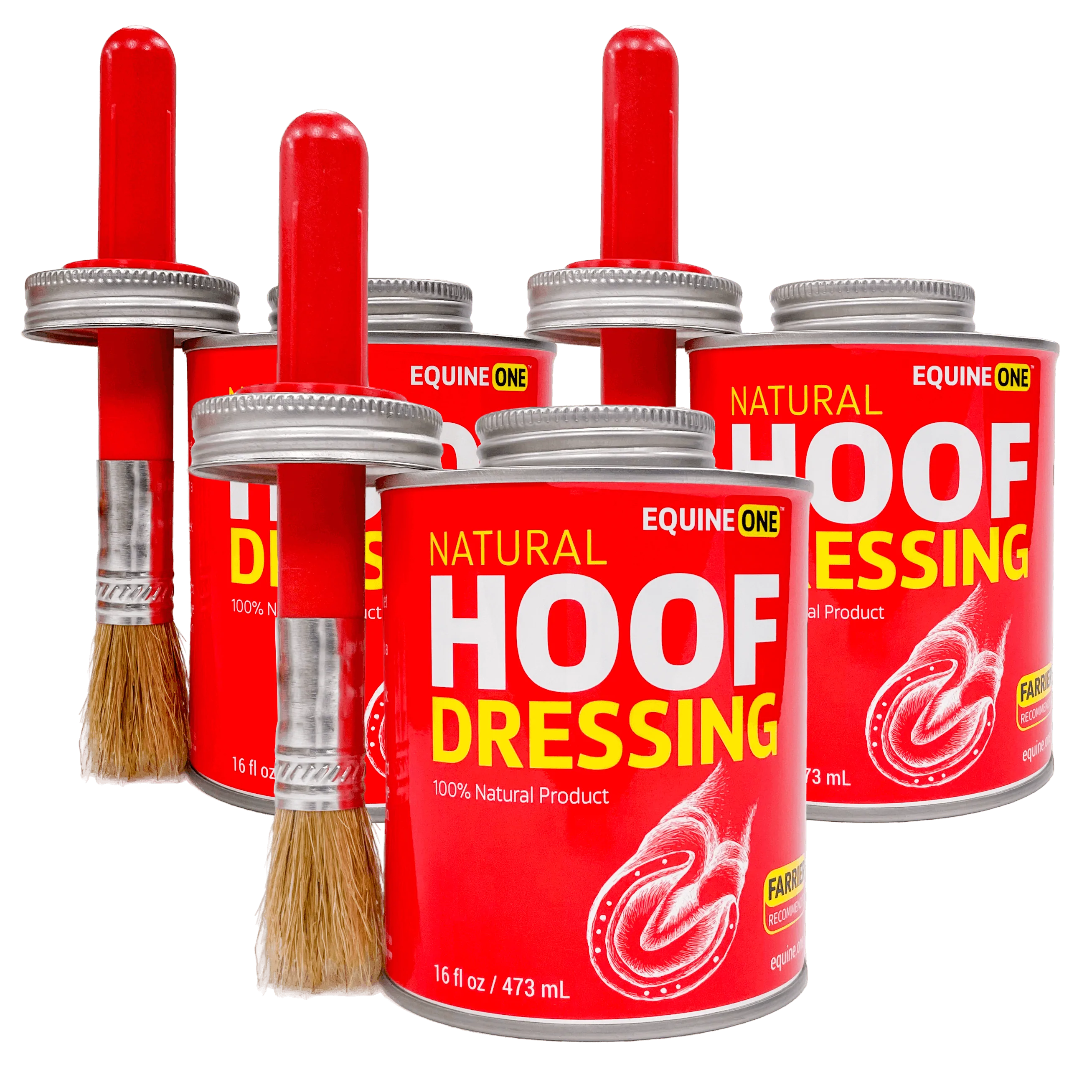 16 fl.oz. - Equine One Natural Hoof Dressing
Equine One is a unique product based on Birch Bark Extract, Betulin, and Omega 3 with Vitamins A & D. Works great with all types of hooves: horse, donkey, goat, or cow.
Equine One promotes external health allowing internal and sensitive structures to do their job, but alone will generally not fix your problem. Equine One is one pillar of an overall approach to a healthier horse
Equine One doesn't clog the pores of the wall. It fills voids and fissures that can be pathways to pathogens.
▪️Apply three (3) times a week
▪️ For severe conditions, apply twice a day for at least a week
Step 01

Shake well before use

Step 02

Clean the hoof of visible mud. Towel dry the bottom of the foot

Step 03

Apply the product generously with the supplied brush to the sole and frog then put foot down, and apply to the coronet band and wall

Step 04

No wait time (maybe a couple of minutes) and you can turn out right away
In all cases involving hoof conditions, diseases, or injuries, your veterinarian along with your farrier are your best sources for information about your horse and your particular circumstances.

DO NOT FREEZE (34ºF / 1ºC minimum)

Keep out of reach children and pets
Not for human or consumptions
Avoid contact with eyes and excessive breathing. In case of contact immediately flush eye with plenty of water
Orders placed before 1:00 pm will be shipped the same day.

Delivery will normally take 2-4 working days from the moment you place your order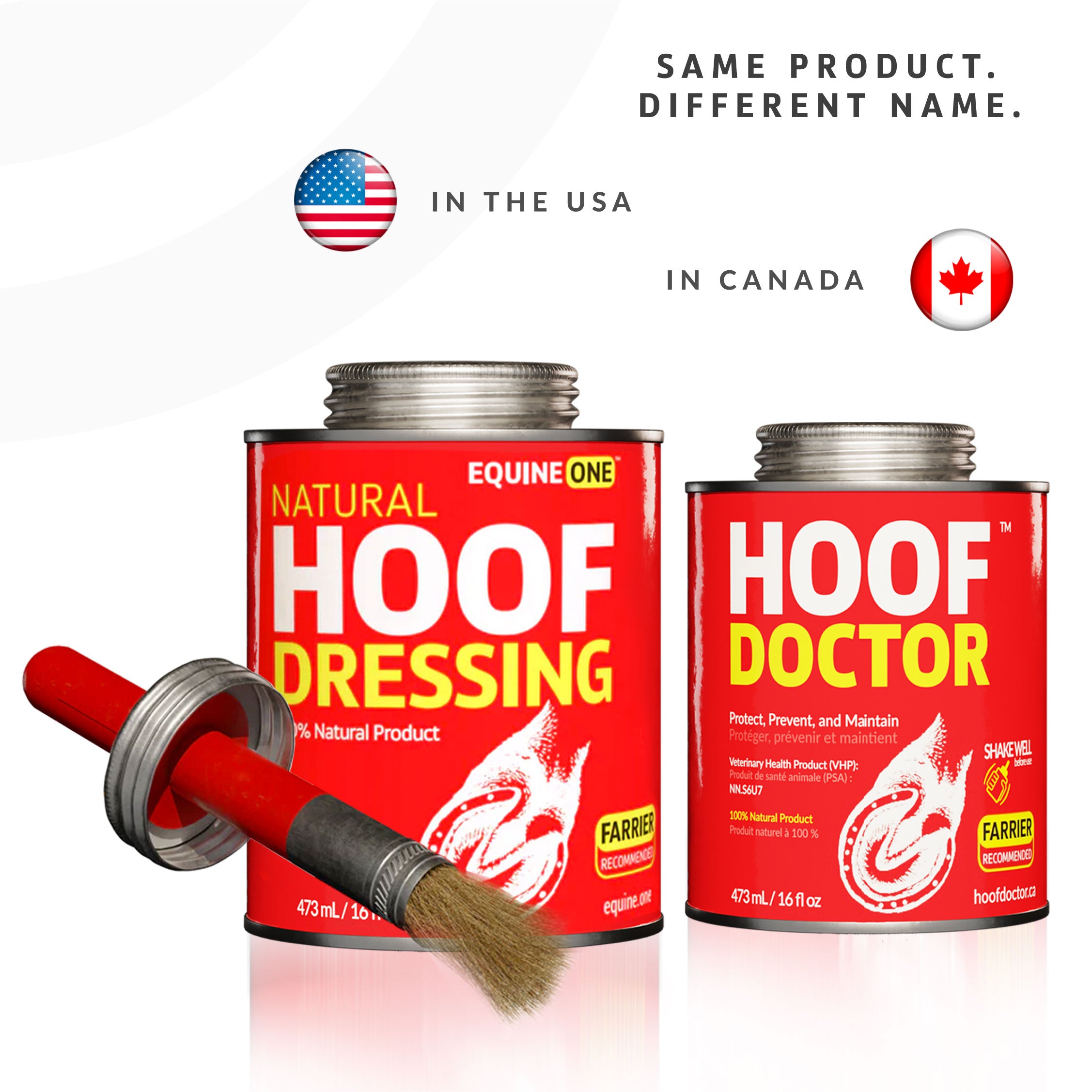 100% Natural ingredients
Non-caustic Formulation, No Harmful or Petroleum-based Products
Learn more
🫰 MONEY BACK IF YOU DON'T LIKE EQUINE ONE
Equine One
Upgrade your hoof care experience with Equine One. Superior combination paired with premium ingredients and expert supervision deliver our signature quick and guaranteed results.
This product is rated 4.8 of 5.0 stars.
It has received 139 reviews.
Mender Amazement
We have used mender on hoof crack and healing abcess
The dressing is used regularly on all horses. Promotes growth and health.
Great hoof inprovement
My horse has had some problems with white line. Since using your product it is really getting so much better. Thank you
Hoof dressing
I am still on the fence about the hoof dressing, but the Hoof Mender putty is awesome! It fills in any holes or cracks, and stays put for days!
16 fl.oz. - Equine One Natural Hoof Dressing
OTTB feet
My horses feet look fabulous! We went through a hot and dry spell this summer and this oil helped wonderfully!